Now…that's the WOW factor!
I have recently become a regular viewer of the show, Storage Wars…I especially like to watch one of the regular buyers – Darrel Sheets…When Darrel makes a particularly good find he will emphatically state- "Now that's the WOW factor!"…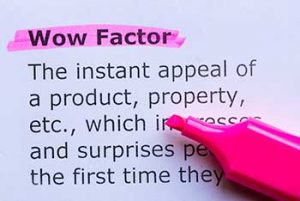 It made me think about hiring managers and candidate resumes…just how often do you think they have viewed your resume and had the same reaction as Darrel?
Take a good hard look at what you are telling a prospective employer with your current resume…re-evaluate your work and life experience and try to find those WOW factors that will differentiate you from the pack…
I'm certainly not suggesting that you stretch your experience or even fabricate what you've accomplished but rather look at:
• Demonstrated success patterns in your past- what skill(s) did you utilize to achieve these results?
• Did you complete a particularly significant project and what was your role(s) in that project?
• What special certifications or degrees have you obtained that make you unique?
• What have people in your past most often cited as your best trait/skill-set?
Now for the WOW factor…succinctly and powerfully tell the prospective hiring managers and recruiters how you will use the above to solve their current problem(s) in a way that will far exceed their expectations…this is where most job seekers fall short…
Try thinking W.O.W. = Why you can expect Outstanding Work from me.